Computer power supply guide - Part 2
February 09, 2017
Fans – location and size
Fans are very important because of their impact on the service life and noise.
Fan location: rear fan or top fan. For home PCs I recommend top fans, unless you're building a very compact PC (mini-ITX, etc.). Bear in mind that top fan PSUs are installed fan facing down.
Fan size: bigger means better. Top fans are big, typically 100–140 mm. Rear fans are small: 60–80 mm. In proper designs, fans run at low RPM, ensuring auditory comfort.
I'd recommend a PSU with a 120-140 mm top fan.
Fans – stock fans vs. custom fans
Sometimes even an otherwise good PSU may come with a subpar fan. So, be sure to read reviews before you buy. I had to replace fans three times in my home PCs. Each time I was very happy with the result. I'm now sure that the PSU fan is your first consideration when building a silent air-cooled PC.
So, the noise is the only reason why you'd want to replace the fan. If you decide to replace, I recommend:
Find the specs of your current fan, namely, the airflow (normally, in CFM). If you can't find them, then for an average 500W PSU I suggest a fan that pushes 75 CFM or a bit more.
Ideally, by specs your fan should be slightly under/over 20 dB but it can be up to 25-27.
Buy a very good sleeve bearing fan. A proper sleeve bearing fan lasts very long, and it's way quieter compared to a ball bearing one.
After you have replaced the fan, be sure to check if your fan is actually spinning! Also, check whether the air flow is adequate and the PSU walls aren't too hot.
If you buy a fan with CFM way over the specs and you want to make it quieter, you can use a resistor or a rheobus. But be careful, or the voltage may be reduced to the point where the fan would not start!
Cabling and modular PSUs
Modern PSUs offer quite a lot of cables. So, cable management offered by modular PSUs is a really great feature. By removing the cables that you don't need:
You save yourself from "cable clutter" and enjoy a neat case interior.
You improve air circulation inside the PSU (critical for compact computer cases).
Be sure to stick to the mainboard user guide and connect all the cables as prescribed. Yes, the system won't start or will beep on disconnected power cables (like external GPU power). Still, sometimes it will start without supplementary power supply cables, but stability may suffer without the following:
Supplementary CPU power supply (4/8-pin).
Supplementary PCI-E power supply (Molex P4). May be recommended for GPUs that tend to draw much power via PCI-E. Especially if you overclock such a GPU.
This is a photo of cable clutter in a relatively small computer case and a top mount, non-modular 600W PSU.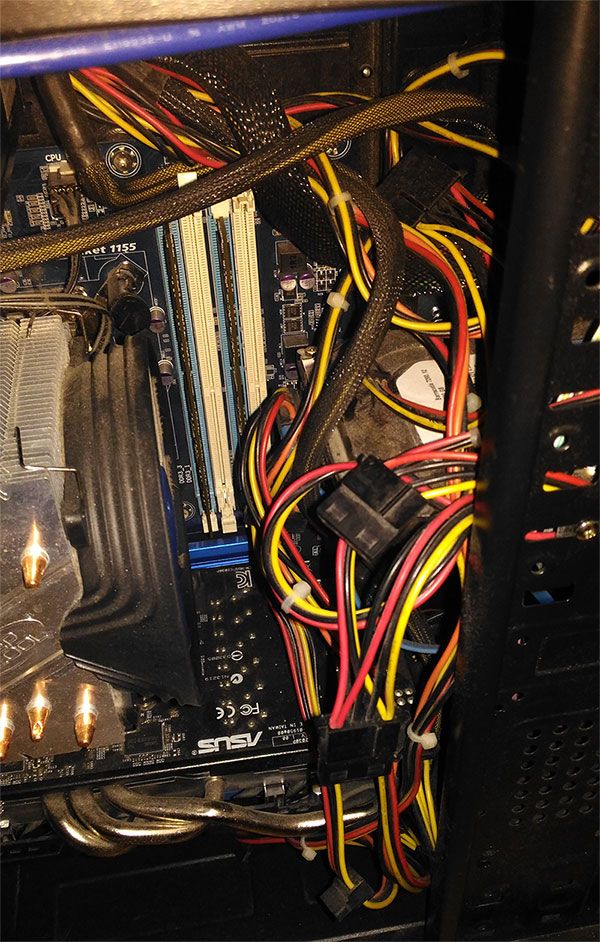 Aging and performance
Power supply performance deteriorates with age. It will draw more power from the wall for the same power output (your Gold-rated PSU gradually goes Silver). Also, as capacitors and power circuitry grow older, they may fail and damage some or all PC components.
It's recommended to furnish your computer with a new PSU once in 7-8 years, depending on the load. Still, you can extend the service life:
Leave some safety margin. E.g. use a 600W PSU when 500W seems enough.
Make sure your PSU stays cold.
Dust clean it on a regular basis.
Power cable adapters
Sometimes you have to use adapters:
Molex (P4) to SATA power.
Molex (P4) to GPU power 6-pin or 8-pin.
Molex (P4) to external CPU power, 4-pin or 8-pin. Sometimes you'd want an extension cable (a frequent issue with bottom mount PSUs and large cases).
While for power hungry GPUs you'd better be off with "native" cables that come with your PSU, it's generally okay to use all sorts of power cable adapters.
However, be extra careful with 8-pin CPU and GPU adapters. Depending on the manufacturer, they may look the same and be able to fit into both GPU and CPU power sockets. Since CPU and GPU power supplies have different polarity, you may fry your hardware!
Choosing make and model
I know there are renowned manufacturers that people generally trust. However, once you know your 12V power draw, you've got to choose several models that have been actually reviewed. So, you are basically bound to look at the models that have been on the market for some time.
If you're after a silent PC:

You should have a good computer case with bottom mount PSU.
Choose a PSU with a 120–140 mm fan. Ideally, it should be able to stop the fan under low load.
I'd forget about complete silence when you are gaming, or you'd need a liquid cooling system.

If you you're after a multi-GPU setup:

Consider SLI/Crossfire-certified units.

Always read reviews carefully especially if you don't want to lose warranty because of fan replacement.
The following makes are considered quality ones: Antec, Bequiet, Corsair, Enermax, SeaSonic, etc.