2FA: why you need it and how to use it
Two-factor authentication (2FA) is an industry-standard technology for secure access. With 2FA, your mobile is required to login to DeskRoll, so an additional layer of protection is added:
If your email password leaks, the hacker won't access DeskRoll without your mobile.
If someone gets your mobile, they won't access DeskRoll without your password.
What happens when you enable 2FA for DeskRoll
When you login to DeskRoll:
1. You enter your username and password as usual.
2. You are prompted to enter an additional dynamic 6-digit password. You get this password from Google Authenticator on your mobile (see screenshot).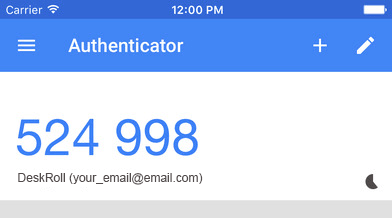 How to enable 2FA for DeskRoll
Open Profile and see under the Security section.
Click Enable Two Factor Authentication button and follow the instructions.
Go to Profile (may require login)